Medicomat® Store | Medicomat.Net | Products | Contact
Diacom NLS Bioresonance Health Medicomat 7D-NLS



Complete Health Check with Bio-Resonance Scan * NLS Therapy Function * Vector NLS Aura Function * The Latest in Non-invasive Equipment for Bio-Resonance and NLS Analysis of the Human Body Including Therapy, Remedy Preparation, Nutrition Suggestions and Supplement Testing Medicomat-38 NLS Analyzer scans more than 1000 organ and tissues on a cellular level, which in addition to detect and repair the human body, can detect a person's mood * Vector NLS 8D-LRIS can be used by anyone who is interested in quickly and effectively examining the health of their clients, friends, family or employees. Note: This machine comes with Laptop (Lenovo, 15.6" display, i5 CPU, Windows 8.1); Vector Software; Language available: English; To insure our 3D NSL analyzer machine work perfect, we sell it with computer which has all the software. Diacom NLS Bioresonance Health Medicomat-36 device is classified as a quantum physics device. By using a computer driven instrument in a safe, noninvasive, painless, and effective way, information is displayed about subtle changes to the stress in the body and thus, provides a means to regulate these concerns. The ultimate goal will be to help you increase relaxation, relieve pain, and develop healthier, more comfortable life patterns, while enhancing both the function and performance using the physiological signals of the body. Medicomat Non-linear system (NLS) refers to an entirely new class of devices, which are called "brain machines". Investigative Technology For Frequency Analysis And Stress Re-Balancing. Medicomat hardware-software system enables activity of brain neurons to help the client help themselves in their own lifestyle changes, muscular education, and stress reduction. The Vector NLS 8D-LRIS employs a treatment method designed to strengthen the body and enhance the body's natural recovery to health. This device scans each organ or tissue on a cellular level. The method is based on an analysis of the brain stems electromagnetic waves (similar to Oberon and Metatron) which contain the complete information of the entire organism. Medicomat uses a special emitter to modulate the carrier frequency for the cell communication and it uses special sensor trigger readers built into headphones to read the cells own signals. The results can be obtained in the form of visual images with the topography of the affected area, as well as graphical features, which allow us to see distress to body tissue. Our analysis is 90%-95% accurate because the program allows the operator to research locally and in detail. Compared to other devices on the market, the NLS 8D-LRIS appears to be the most user friendly device that provides exemplary accuracy. With its ease of simplicity, it is designed to be used by anyone who takes a proactive approach and strives for good health and well-being.

MEDICOMAT-36 7D-NLS is the Latest in Non-Invasive Equipment for Bio-Resonance and NLS Analysis of the Human Body Including Therapy, Remedy Preparation, Nutrition Suggestions and Supplement Testing.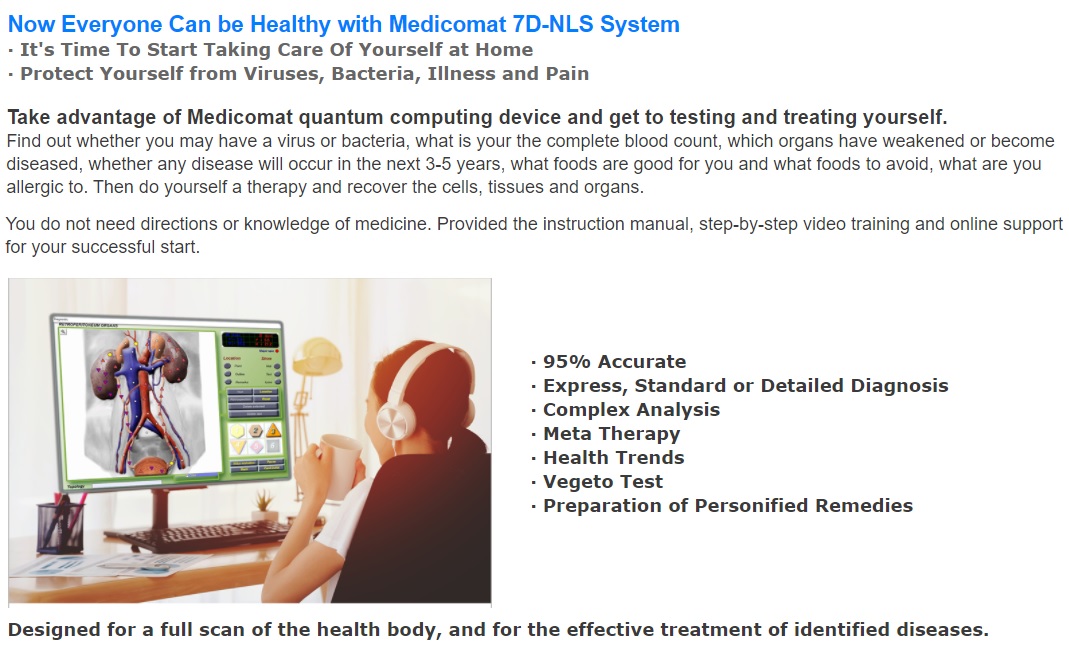 GET AN ACCURATE DIAGNOSIS - RECEIVE THE MOST EFFECTIVE TREATMENT


STANDARD EDITION


PROFESSIONAL EDITION


PREMIUM EDITION

WARNING : The original "Medicomat®" devices are only sold under remark "Ships from and sold by Medicomat". Another Sellers is Hijacking our Brand Listings and Medicomat not responsible for their false representation and delivery of fake products.
Related products
---
---
© 2021 Diacom Bioresonance Medicomat Limited