Medicomat® Store | Medicomat.Net | Products | Contact
Health Test Computer Software Medicomat 7D-NLS



Ships from and sold by Medicomat Devices. Medicomat® Medical Automat Series * THE WORLD'S BEST HEALTHCARE APPARATUS * GIFT With Purchase: Dual Therapy Device Medicomat-10 ($175) 3D NLS Health Body Composition Analyzer - 30 Minute Examination - 3 to 5 Years of Health Trends - Repair Treatment Function - Item (Goods) Analysis Function Body Detection Function: 4352 Predictive Reports * Green examination on the body without any harm * Health data recovery plan Note: This machine comes without computer; Operation System: Windows 8, Windows 7, 32-bit Windows XP; Language available: English. Read more at Medicomat.com and view product video at Medicomat.com/yt36.php Free Shipping Worldwide - Delivery of this item is carried out from China by DHL. Health Test Computer Software MEDICOMAT-36 is the latest in non-invasive equipment for Bio-Resonance and NLS Analysis of the Human Body Including Therapy, Nutrition Suggestions and Supplement Testing. Medicomat bio-resonance method is a very useful analysis procedure, and it based on express estimation of the human organism status, which is based on registration of changes in human body organs and histologic structures, as well as providing the prognosis of treatment stages and possible complications. The procedure is completely safe and non-invasive and will allow us to tailor your therapy more precisely. Computer non-linear analysis (NLS) as a dynamic noninvasive informative method is being used more and more widely to examine the state of health. NLS method allows the evaluation of the state of bio-energy of each organ individually. Medicomat software is designed with shapes, colors and descriptions which will capture the clients attention and help them feel more confident about the test and treatment. Accuracy of measurement: MEDICOMAT-36 provides big virtual recognition models of human organs with accuracy 85-95%. Medicomat therapy is aimed at correcting the deranged intrabodily balance and corresponding electromagnetic radiation via specific combinations of frequencies found to resonate with the current state of ill-health. They can be received by the client via the headset type sensor or transferred for delivery over a course of treatment. 3D-NLS is not invasive detection, the test will not have any discomfort. Non-voltage electrical stimulation, do not touch the skin, Not play reagent. No any hazardous radiation damage, Not to take off a sweater, Not need wait-Not fasting, Not any side effects. Only takes 30 minutes to complete the body of 3D simulation CT scans detect for quick analysis and evaluation of health status.

MEDICOMAT-36 7D-NLS is the Latest in Non-Invasive Equipment for Bio-Resonance and NLS Analysis of the Human Body Including Therapy, Remedy Preparation, Nutrition Suggestions and Supplement Testing.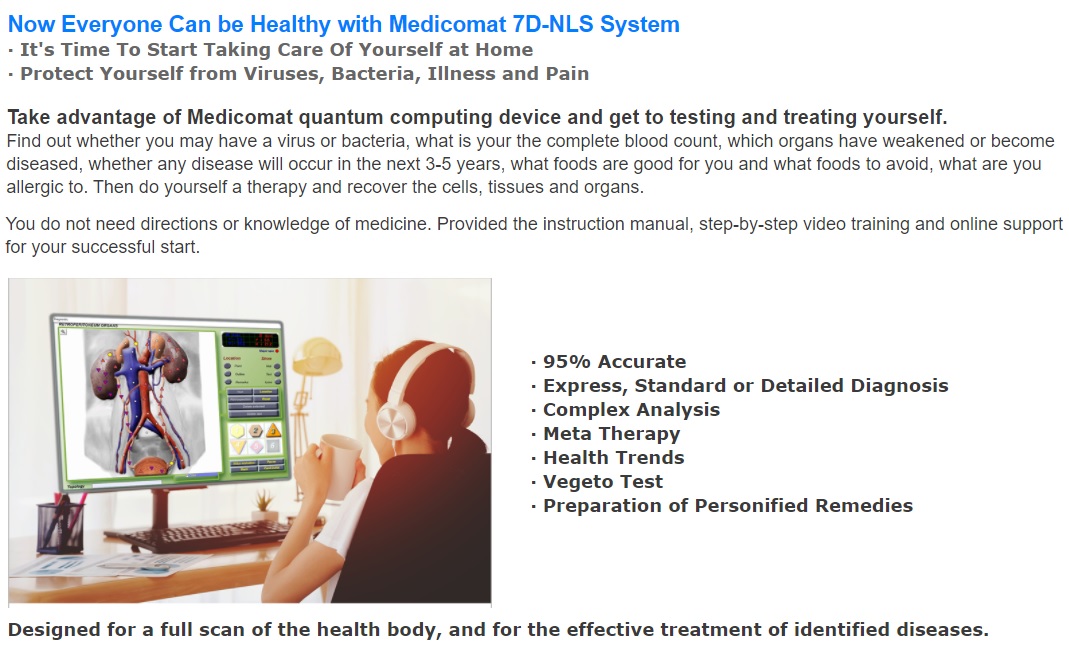 GET AN ACCURATE DIAGNOSIS - RECEIVE THE MOST EFFECTIVE TREATMENT


STANDARD EDITION


PROFESSIONAL EDITION


PREMIUM EDITION

WARNING : The original "Medicomat®" devices are only sold under remark "Ships from and sold by Medicomat". Another Sellers is Hijacking our Brand Listings and Medicomat not responsible for their false representation and delivery of fake products.
Related products
---
---
© 2021 Health Test Software Medicomat Limited