Medicomat® Store | Medicomat.Net | Products | Contact
Biofeedback Multi-Functional Instrument Medicomat



Original Russian Metatron NLS Body Health Analyzer: Recognizing parasites such as: intestinal parasites, fungi, bacteria, viruses, micro plasmas rickettsia, Recognizing allergens , Medicaments analysis and tests, follow up nourishment, fitospecimens, homeopatics specimens, ointments, cremes and materials for teeth in respect of their agency and tolerance Healthcare

Fully Automatic Auriculotherapy, Biofeedback Multi Functional Instrument and An Alternative to Drugs. Introduced for the first time in "Metapathia GR Hunter" software: all peculiar to Homo Sapiens species anatomical, histological, cytological structures including ultramicroscopic ones.

Accessible and Affordable Health Care for EveryoneVector NLS recognizes these biofields: Bacteria, fungi, viruses and parasites , Blood components, hormones and enzymes , Allergens up to 500 and environmental toxins , Food, herbs, homeopathics, pharmaceuticals etc. Strengthening The Immunity Of Its Own Healthcare Technology

Metatron NLS is a revolutionary diagnostic system using the most modern components and software to create possibilities for doctors to recognize many illnesses in their infancy eg. infancy of tumours, sclerosis multiplex etc.Spectrums of minerals and gems, it allows to select according to individual biocompatibility a gem for permanent carrying or apply lithotherapy – healing treatment of organism by mineral radiated spectrum. Health care Chronic Back Pain Icd 9

Effectiveness Of Reflexology, COVID-19 Safe and Natural Remedies. We welcome trained bioresonance therapists and doctors of all specialties from any part of the world to participate in the Medicomat.Cloud and to involve their customers. No investment is required for your practice to double the number of customers. Encourage your customers to purchase or rent a Headset from you. Sign up for free to get a promotion and more customers. Technology

Medicomat Bioresonance Diagnostic and Therapy - Everyone Can be Healthy with Medicomat.Cloud Health care

MEDICOMAT-36 7D-NLS is the Latest in Non-Invasive Equipment for Bio-Resonance and NLS Analysis of the Human Body Including Therapy, Remedy Preparation, Nutrition Suggestions and Supplement Testing.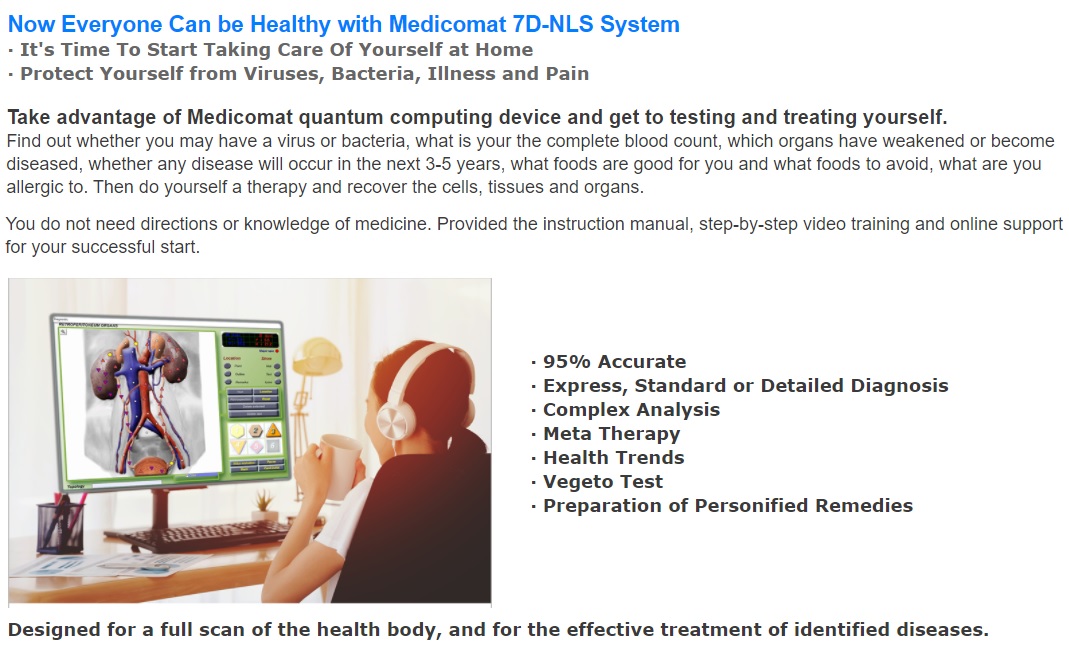 GET AN ACCURATE DIAGNOSIS - RECEIVE THE MOST EFFECTIVE TREATMENT


STANDARD EDITION


PROFESSIONAL EDITION


PREMIUM EDITION

WARNING : The original "Medicomat®" devices are only sold under remark "Ships from and sold by Medicomat". Another Sellers is Hijacking our Brand Listings and Medicomat not responsible for their false representation and delivery of fake products.
Related products
---
---
© 2021 Biofeedback Instrument Medicomat Limited